Energy Reports
Phase I &II Energy Retrofit Program Overview
NH DOE State Report Card
New Hampshire Department of Education - Rochester Schools Report
90% Reading Goals
A BUILDING APPROACH WITH PRIMARY ACCOUNTABILITY:
Primary planning and program change will be on an elementary school-by-school basis. Primary accountability is with building principals. An annual report to the School Board will be provided by all schools in the district.


PLANNED, INCREMENTAL, AND CONTINUOUS GROWTH:
The district expects planned, incremental, and continuous improvement at kindergarten through third grade from each school's baseline to the goal over the next four years. We will continue to expect 90% reading at grades 2 to 10 with yearly reports on the progress.

Grade 3 Reading Goal

Season and Year Percentage Goal
Spring 2003 64%
Fall 2003 68%
Spring 2004 72%
Fall 2004
76%
Spring 2005 80%
Fall 2005 84%
Spring 2006 88%
Fall 2007 90%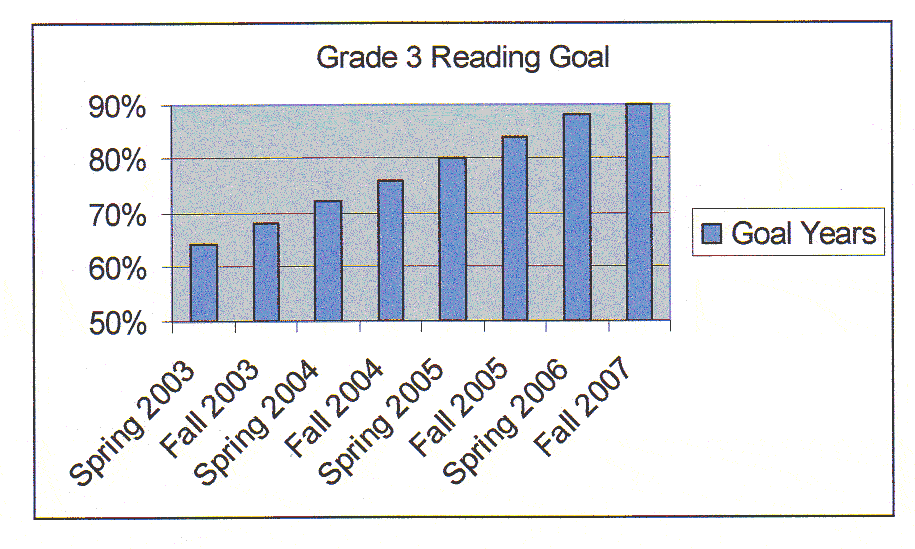 INCREASED RESOURCES:
Each elementary school should identify and alter decade-old paradigms that limit the existing resources that are spent on reading.

CHANGES K-3:
Our primary approach is intervention at grades K-3, not remediation commencing in the fourth grade.

RESULTS ORIENTED:
Programs will be evaluated on the basis of whether they work.

EXPECTATIONS:
We expect all children, including those from low socioeconomic backgrounds, to reach the reading goal.

COMMUNITY INVOLVEMENT:
The need to increase community awareness and support for the reading goal and reading improvement is evident all areas of research and practice within Rochester.

Children Seldom Catch Up "More than eight of 10 children with severe word reading problems at the end of first grade performed below the average range at the beginning of third grade."
J. K. Torgesen, R. K. Wagner, and C. A. Rashotte, "Prevention and Remediation of Severe Reading Disabilities: Keeping the End in Mind," Scientific Studies of Reading 1 (1997): 217-34.

"Children who fall behind in first grade have a one in eight chance of ever catching up to grade level without extraordinary efforts."
C. Juel, Learning to Read and Write in One Elementary School (New York: Springer-Verlag, 1994).437-447
"Eighty-eight percent of children who were deficient in word recognition skills in the first grade were poor readers in fourth grade."
C. Juel, "Learning to Read and Write: A Longitudinal Study of 54 Children from First Through Fourth Grades," Journal of Educational Psychology 80, no. 4 (1988): 437-47.
"In school lore, second grade is broadly viewed as children's last chance. Those who are not on track by third grade have little chance of ever catching up."
Catherine E. Snow, M. Susan Burns, and Peg Griffin, eds., Preventing Reading Difficulties in Young Children (Washington, DC: National Research Council/Academy Press, 1998), 212.

"Seventy-four percent of children who are poor readers in the third grade remain poor readers in the ninth grade."
D. J. Francis, S. E. Shaywitz, K. K. Stuebing, B. A. Shaywitz, and J. M. Fletcher, "Developmental Lag Versus Deficit Models of Reading Disability: A Longitudinal, Individual Growth Curves Analysis", Journal of Educational Psychology 88, no.1(1996):