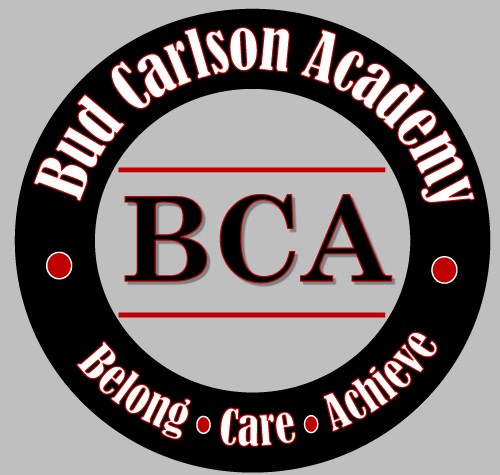 The mission of the Bud Carlson Academy, in partnership with our community, is to provide a quality education by recognizing and developing the talents of all students, to reconnect students to the school community and help students become more successful academically and socially.
As one of the oldest alternative education programs in the state the Bud Carlson Academy (BCA) serves Rochester School District students in grades 9-12. BCA fosters an atmosphere of intensive individualized program of study offering a non-traditional high school educational program that maximizes the potential of each student based on his or her individual needs. Students are provided with a structured environment where program expectations, objectives and goals are clearly stated. An advisory program helps support individual education plans , and all BCA students create a visual record of progress toward the overall goal of fulfilling academic graduation requirements as well as monitoring their growth and achievement in 21st Century Skills.
BCA is a MTSS (Multi-tiered Support System) school and in the process of becoming one of the first Trauma-Skilled Schools through the National Dropout Prevention Center. The Bud Carlson Academy uses a broad range of behavioral approaches, classroom management techniques and teaching strategies designed to create positive successful experiences that help students develop new behavioral skills. The classroom environment is structured with clearly defined rules and behavioral expectations; instruction is modified based on students' individual needs. It reflects positive teacher-student and student-student interaction. Students are engaged in the educational process and are afforded multiple opportunities to self-regulate and monitor their own behavior. Problem solving, anger management techniques and social skills training are taught and practiced in weekly team building groups.
Students who enroll in the Bud Carlson Academy will be working toward a 20 credit high school diploma, as approved by the State of N.H. Department of Education. Students will be attending the BCA full time and will be afforded the opportunity to enroll in Career and Technical Education (CTE) Programs based on space, availability of courses, and successful completion of the application process. Students who complete the 20 credit graduation requirement will be awarded a Bud Carlson Academy high school diploma during a separate BCA graduation ceremony.
Bryan Kelliher, Director
150 Wakefield Street
Rochester, NH 03867
603-332-3678 ext.*1137
kelliher.b@sau54.org
"Making a difference One Student at a Time"